19.10.2018
These days YesDates has become by far the most popular and fast-growing dating websites in the sphere of online acquaintances. It earned its reputation by helping thousands of single men from all over the world to find their Ukrainian and Russian wives that made it one of the most reputable and trustworthy services in its niche.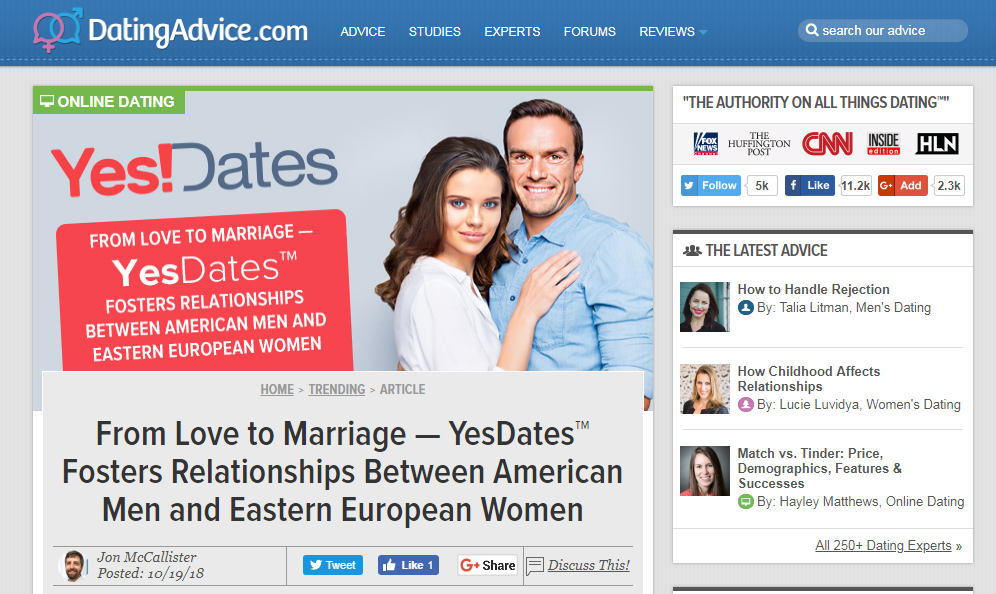 YesDates is distinguished by the latest technologies and instruments that make the website user-friendly, regardless of age, gender and PC proficiency. Everyone who goes through a quick and easy process of free registration on the website gets into warm and friendly atmosphere created by the team of our professionals. By helping thousands of lonely hearts to find happiness, love and harmony, YesDates contributes greatly to online dating industry.
As a result of long and hard work of our enthusiastic staff that 24/7 do their best to make everyone feel comfortable and pleasant on the site, YesDates was honored by such well-known and authoritative resource as DatingAdvice. In its YesDates.com review they duly appreciated the website's usability, friendly interface, the great variety of available features, the huge gallery of single Slavic beauties and the unique anti-scam program that makes the communication on the platform safe and secure. This is a very important and significant moment for all of us and we want to thank our users for their love and devotion. Without you it would be impossible!
Below are the excerpts from the article:
"The Short Version: YesDates is a dating site designed to pair men from the West with Eastern European women. While the site includes female users from many countries, most are from Russia and Ukraine. YesDates has features that aren't found on many international dating sites, including two-way, high-definition chat and the option to mail a letter or a gift to a person who piques your interest. Singles can join YesDates for free to browse profiles, and then they can upgrade to a membership when they're ready to truly connect."
"Along with its goal of connecting singles around the world for dating, YesDates takes precautions to create an environment where users feel safe and welcome. Some of the site's community guidelines even include instructions to be kind and respectful."
"In the end, YesDates' goal is simple: to provide a safe and straightforward platform to promote interactions between singles. Whether that leads to a friendship, relationship, or a marriage is up to how they decide to use it."
You can read the whole article on DatingAdvice here>>>
It's nice to know that you've made the best choice, isn't it?