24.10.2019
Have you started planning your first cruise and don't know what to do? This is a standard situation for most novice travelers. You wanted to dilute your life with something exotic, and asked yourself, "should I go on a cruise? It looks so cool in the movies!" Then you checked all the cruise options on the Internet, ran into a sea of completely new and incomprehensible information and ... got lost in an abundance of offers. As a result, planning a vacation on a cruise turns into a difficult event and it is all very hard to plan for you.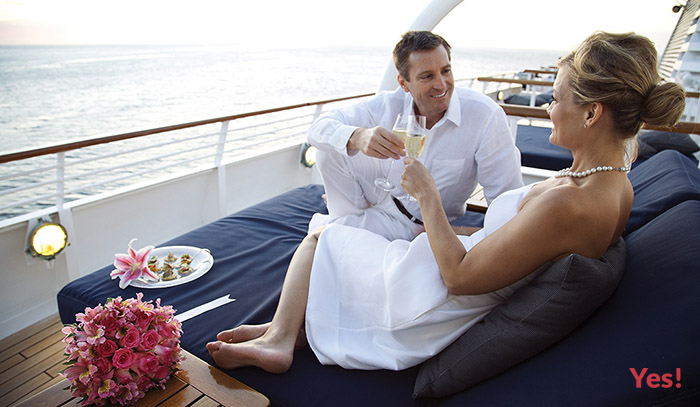 A huge number of options are available to you, from party liners for parties and luxury Mediterranean yachts to river cruises and expeditions to Antarctica! But how can you choose a cruise that will suit your needs? After all, if you plan on meeting other singles, you have to not bother with anything else, no problem should ruin your experience.
Today we are going to list some of the best single cruises 2019, and answer the question of "what are the best single cruises and ships for people over 50". But first, let's figure out some things you need to know about cruises in general, then we will move on to single cruises for over 50.
What you need to decide before traveling
Before you start choosing a cruise, first you need to seriously think about what kind of traveler you are (a gourmet, an adventurer, a night party-goer) and what kind of vacation you want. In addition, we must not forget to take into account factors such as budget, place of departure and duration of the cruise.
But even after you have decided on a vacation option, how do you know which cruise company best suits your needs? You can ask a travel agent (though you must first find someone who knows something about cruises), or you can just read the following information about the best cruises for singles that are over 50.
Is it a trip for relaxation or adventure?
Ask yourself, do you want to relax or do you want to find new and exciting places that this world has to offer? Sure, you plan to meet single girls there and you want to start a relationship, but still, do you want to do that in a relaxing atmosphere, or while you are traveling the world and seeing beautiful places it has to offer?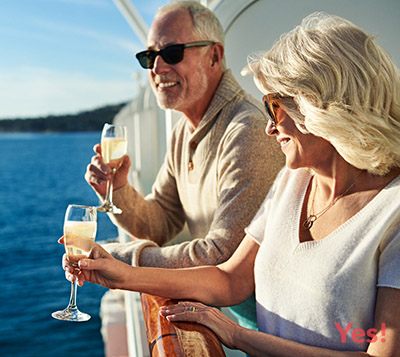 Budget and health status
This issue is quite a bit more serious, ask yourself, what type of cruise can you afford? Are you willing to spend a lot of money on an expensive cruise with lots of additional services, or will you be happy enough with the most basic setup?
The other issue concerns health, do you have any health-related issues that may cause trouble on a cruise ship? You must remember that, usually, doctors on cruises are not that well qualified, and some of them are not fluent in English. Also, their working hours aren't always that convenient, so you may end up having some issues in that regard.
But what if you don't want to go there alone, what if you want to impress some other person that wants to unwind just as much as you do? Well, visit the following dating website where you will be able to find thousands of pictures of women seeking men. Start dating right now and enjoy your cruise with someone beautiful by your side.
Let's move on to cruises for single seniors.
Over 50 single cruises
Now let's list some of the best over 50 single cruises that we know of. What cruises for single people should you consider?
Carnival Cruise Line
Suitable for: those who want to save money.
Description: Carnival is well suited for travelers who want maximum entertainment for a little money, it has a large variety of single senior cruises. An extensive fleet of ships of different capacities, specializing in popular routes (Caribbean, Bahamas, Mexico) and short trips (3-7 days) allows you to enjoy affordable prices while getting the most out of your trips.
Prices: The prices of ordinary Carnival cruises are very affordable, and for special offers, they can drop even lower. Cabins on Carnival cruise ships are quite ordinary, which is offset by numerous entertainment and a show program.
Entertainment: Carnival's motto is "Let the Fun Begin", so it's unlikely that you will be bored onboard. Company ships are real floating amusement parks for people of all ages. They have pools with a water park, discos, casinos, fitness, and spa - this is not a complete list of what you can do onboard. Cruise regions: Caribbean, Mexico, Hawaii, Canada, New England, Alaska.
Tip: Avoid holidays, especially school holidays, for the best cruise prices.
Royal Caribbean international
Entertainment: Royal Caribbean is at the forefront of cruise entertainment. The company will present you Broadway shows such as "Grease" and "Mamma Mia!" but takes them out of the theater to ice rinks, along with ice shows, acrobatic diving shows in the AquaTheater pools and aerial gymnastics shows in the atriums of the liners. The Anthem of the Seas features Two70 high-tech entertainment with two full-screen digital screens, six "Robo-screens" with live dancers, singers, and musicians. Here you can also meet the characters of the Dreamworks studio.
Features: This is the second-largest cruise company in the world, it has a fleet of modern ships with innovative technological entertainment.
Regions: All around the world, but the main region of the company is the Caribbean.
Oceania cruises
Description: In Oceania, the executive culinary director is the famous French chef Jacques Pepin, who devotes himself to fine restaurants onboard the company's liners. The restaurants offer high-quality food in open-air rooms. Buffets and grills by the pool will not disappoint you either.
Features: Lobsters come from their farms in Maine, and steak beef is aged 28 days in the company's old building. There are special buffets (excluding a wine menu) ranging from Asian to Italian. And if it's not enough for you just to eat delicious dishes, you will learn how to cook them at the Culinary Center courses. Also pay attention to the extended trips from Culinary Discovery Routes, devoted to gastronomic excursions to the ports of Casablanca, Rio, and Venice.
Regions: Almost all over the world.
Holland America
Holland America is an elegant mid-sized company, traditionally attracting more mature passengers, emphasizing the classic experience of cruise entertainment. They have a lot of great cruises for single seniors over 50 to choose from. They also have plenty of single cruises under 50. They offer peaceful pleasures such as the Culinary Arts Center, and a partnership with America's Test Kitchen which focuses on practical cooking classes and cooking shows; there are independent trips to the art collections onboard the ship; as well as lectures on local culture and history.
Entertainment: Holland America Line provides services to single travelers through the Single Partners program, which includes welcome parties at the beginning of the cruise and then special cocktail or themed parties that allow you to get involved in the social life of the ship.
Features: Upon request, the company brings together the tables of people for dinner, and if the cruise is longer than 40 days, the company will provide male escorts for single women for dinner or dancing. The company will pick you a roommate of your gender. As an alternative, the company's two ships offer individual cabins: there are twelve in Koningsdam and three in Prinsendam.
Regions: Almost all over the world.
Silversea cruises
Description: Silversea is great for mature travelers that want to meet other people. The all-inclusive pricing model allows you to enjoy a luxurious pastime without unexpected expenses. On Silversea routes, this rate includes room service, wine and drinks, gratuities, and delivery from the city to the port. Nine small ships - from 100 to 569 passengers - are well suited for people not looking for large companies and for people with reduced mobility. In addition, Silversea has many cruise routes, with ports that liners do not often access, which makes them quite interesting for experienced travelers looking for new horizons.
Regions: Australia, New Zealand, Canada, New England, the Caribbean, Northern Europe, the Mediterranean Sea. Norwegian cruise line
Description: The Norwegian Cruise Line (Norwegian or NCL) is notable for revolutionizing the industry with its freestyle cruise philosophy. Excluding the remnants of traditional cruises - in the dress code, optional food, entertainment - Norwegian inspired others to follow its concept. The company offers a true hybrid of tradition and innovation in entertainment, cuisine, and the interior of a cruise vacation.
Entertainment: In addition to the standard set of entertainment (pools, water parks, sports, discos), the liners feature numerous free events, including the famous Broadway musicals, and live music, comedy shows, and many free restaurants. The company also regularly holds promotions that allow passengers to include one or more free options in their package, for example, additional drinks or special lunch loans.
Cruise Regions: Almost everywhere, from the most popular Mediterranean routes, Asia, the Caribbean, and Europe, to Alaska, Hawaii, and Australia.
How to meet someone on a cruise: main tips
Now that you know the complexities that go into choosing a cruise and have seen some of the best single cruises for seniors, let's now list some tips on how to meet other people on a cruise.
Choose the right cruise type
If you plan on meeting other people for the sake of establishing romantic relationships, you have to pick the right type of cruise, within the age group that fits your desires, and the type of a cruise in general, whether it is focused on relaxation, partying, adventures, etc.
Groom yourself
Grooming yourself is always important, not just on the cruise, but every impression that you make counts, and you cannot possibly find an excuse like "I was busy", you have to look sharp and attract to the eye. You all know what to do, and if you want to attract the attention of other people, you have to love yourself first.
Make conversation with people you meet
You will not be able to start a relationship or even have a cruise-long affair without actually talking to someone. You have to start a conversation with a person you like, not bother them with your problems, and just talk about your enjoyment of the trip. Be yourself, nothing else matters.
Be a part of daily cruise activities
All the cruises listed above have a huge variety of activities one can attend throughout the day. The most common daytime activities include various games, contests, concerts, events, etc. This is the right time to show off if you have a great physique, so don't miss out.
Be a part of evening cruise activities
Evening activities mostly have to do with alcohol, and, if consumed in the right amounts, it brings people together, which is exactly what you need. Approach the people that you like, don't interfere with their conversations, talk to them about your trip, and, when you are drunk enough, maybe your interlocutor will enjoy a conversation about some rather intimate and sincere topics.
Booking a cruise is a great way to unwind and meet lots of new people. This is the period of time that you should devote to yourself and to nothing else that can possibly bother you. So make sure that all of your work is done, all the colleagues and your boss know that you are busy, this way, no one will ever bother you with nonsense, and this is what you need if you plan on meeting other people.