04.10.2019
What Is the Tagline on Tinder?
With the development of the Internet, personal, business, and friendly relationships have moved to the virtual world. We can make a business without leaving our homes, but why can't we search for a love partner without actually going anywhere? Of course, we can! The Tinder application in our time is one of the main ways to find the one with whom you will go on a date. But there is also a problem: millions of people daily use Tinder, and it is very hard to make someone swipe you right. And this is when a Tinder tagline comes to rescue. What is a Tinder tagline? The answer is very simple: it is a small white bar on your screen.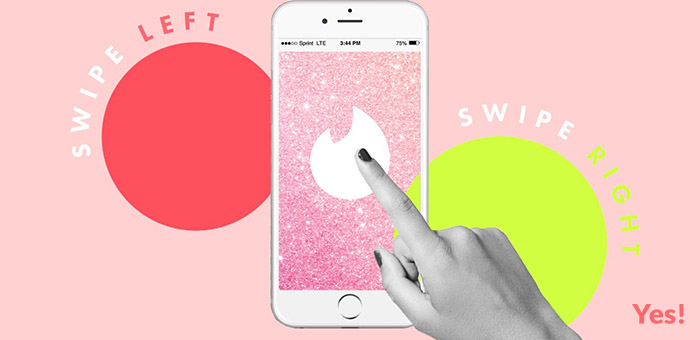 Tinder tagline serves for drawing attention to yourself. There you can write something special about yourself that will make girls swipe you right. Online dating provides us with hundreds of options to find a life partner. We've studied how the bio-popular people in the application look like and asked users to explain what the secret of success is. It turned out that more often matches are received by those who are not shy of telling about themselves as much sincerely as possible. And seriousness is not the best approach if you want to have a lot of dates.
So, the best way to be successful in online dating is to show girls with your tagline that you are very funny but at the same time, a serious person, who wants to find a nice girlfriend. Also, many people search for one night's appointments. If this is not what you want, then don't write anything ambiguous in your tagline on Tinder, and don't post nudes. It is very important to know who your target audience on Tinder is.
How to Write a Good Tagline in Tinder for Guys
As you can see, a Tinder tagline is a great addition to your bio. Even though everyone on Tinder is in an equal situation, some people get a lot of attention from women, while others struggle to have even one match. But why? The answer lies in people's bios. Those who have managed to write or get a nice bio usually have way more matches than those who haven't paid any attention to it. If you have at list some bio on hot women dating sites, then you have more chances than those people who have no bio at all. Well, you are terribly wrong. Poor-written bio is the worst thing you can have on Tinder. A girl may like your photos, and even if there is no bio, she may swipe you right. But if she sees a terrible bio, then she definitely will swipe you left. So, pay attention to what you write about yourself on Tinder. Read more to learn to write a Tinder tagline.
Keep It Simple
When you date women online, you should never expect that a girl will be reading your bio for hours. If she sees a tremendous amount of text, she won't even bother to read any of it and will simply swipe you left. Long profiles usually are red flags for people on Tinder. In online dating, your bio must be short and catchy. You must be able to show a girl that you are an interesting and smart person, so consider writing a tagline as a small challenge. Use as few words as possible and try to convey as much as possible information.
Tell a Story
According to statistics, the most popular accounts on Tinder try to tell short stories in their taglines. You can mention that you like to travel, or you may say that once you were forced to spend a whole night on the street in SAR because you lost your hotel. Short stories can tell girls a lot about you. Her first question may be about something that you have mentioned in your bio/tagline. Remember, dating is all about having fun. So, it is always a good idea to write a couple of funny stories in your bio.
Describe Who You Are
In your funny Tinder tagline, you should mention things that describe who you are. This is important because girls should know what to expect from you. You don't have to write a whole book about yourself on Tinder. Keep it short. Use one of our Tinder tagline examples, "69% gentleman. 31 % rogue." This one will tell girls that you are a normal man who sometimes can be funny. Thus, girls will know that you are not a boring person. Don't simply list facts and adjectives about yourself. This looks boring and stupid.
Be Creative
This is the most important factor in our Tinder tagline tips. Nowadays, it is rather hard to be truly creative because hundreds of people are inventing new dating methods and approaches right now, and it is rather hard to keep up with them. Your goal is not to be on top among those "inventors," but to be successful in dating. To do that you simply should not be a too ordinary person. Try to write something special in your bio or search for tagline ideas for Tinder online. And don't use one Tinder tagline for more than two weeks.
Taglines Example
If you still don't know how to write a good Tinder tagline, then this part of the article is written specifically for you. We've managed to collect here best taglines for Tinder. Read our taglines to find inspiration for writing your own tagline, or you may copy-paste one of them directly into your account. Welcome to our list of 30 best Tinder taglines for guys.
Swipe right if you are into a really nice coffee and know at least 5 great places when they serve it just perfectly.
I am one of those people who enjoy discussing things that are not welcomed in a polite company. If you are not afraid of talking about strange topics, such as why people have never used gel polish to besiege medieval castles with beautiful princesses kept in the highest towers, then feel free to swipe me right.
Send me emoji that reflects your current mood, and I will send you emojis that reflects our future place of the date.
I am YOU from the future, and you are telling you, 'Swipe right, this is your future!"
The qualified shower singer is looking for a duet partner.
If you believe that you can eat more shawarma than I, then swipe right to finally find out who is the best shawarma eater in this town.
Have a date with me? Best chances of success, the certainty of losing your breath. So what are we waiting for?
I am just a guy, sitting in front of a girl, questioning her if she is going to finish her hamburger or maybe she needs my help.
I am a nice, good-looking and sweet person, who has just graduated from university and found a very-well painted job and is going to get an MBA. Swipe right if you want to learn how to enjoy sleeping one hour a day.
If your armchair is an exercise bike and sofa serves as a deadlift bench, then swipe right and together we will turn our TV into a jogging machine.
My worst nightmare is to open Tinder and see that too many people have swiped me right and I won't have time to search for someone special among them. Swipe left if you are not special.
Time after time, I feel that I will never find a nice partner who will understand me. Occasionally I feel like the only thing I can do is to look at beautiful girls on Tinder, who will always swipe me left. If you are as lonely as I am, then swipe right, and we will crush our loneliness together.
I like animals. In fact, I think that I am an animal too. But unquestionably not in the bad meaning. How can someone with cute eyes and desire to sleep on your knees be bad? Swipe right if you are into creating a small cute house for two fastly beating animal hearts.
I am fully committed to freedom. I want to have free relationships in which my girlfriend and I will be free to love each other forever. I want to be free with you together. Swipe right, if you also think that the whole world won't be able to take our freedom to be together from us.
This is my very first tagline on Tinder. With it, I hope that your standards are far lower than mine. That was a joke, I have lost count how many attempts I made to write something witty and smart. Swipe right if you are terrified of my next attempt.
My friends will unquestionably hate you because you will be the only one who will control my whole life in every aspect. What on Earth are you waiting for?
I don't have a normal tagline, but I have something better: many unconnected words on it.
Swipe right if you are also "no lifer" who spends everything he\she has on traveling all around the world but wants to buy huge TV and spends all his\her evenings in front of it watching Chinese TV series.
I am new to this town, and I love drinking coffee. Unfortunately, my skill of making coffee has been blown up by my laziness, but it hasn't touched my skill of making money. Here is a deal: you find three perfect places where they make great coffee, and I will buy them for us.
In my attempts to deal with my loneliness, I made many mistakes. Would you like to hear a piece of advice from a very experienced 18 years old boy? Don't swipe me left because now you are reading a tagline that has been written by your future happiness.
On our first date, I will cut our names inside a small heart on a tree because this is the most romantic way to let you know that I have a knife.
I am studying for a doctor. I am very handsome, so this may take your breath away, but also I am quite smart to take your breath back to you. Swipe right if you are into real-life angels.
I am here only because my family, friends and distant relatives believe that it is not okay to bring a cardboard Lady Gaga to our family celebrations and holidays.
My mother says that I am handsome, my grandmother continues assuring me that I am perfect, and only my father keeps telling me that talking to their graves is not something that normal people do.
I am working as a led developer in one, widely known among a very small amount of people, IT companies. I am searching for an interesting girl of any appearance. I love starring at my pc and walking at night. My weaknesses are delicious homemade food and intelligent girls. I simply can't cook, and the first thing I notice in a girl is her intelligence. If she has one, then she will never decide to date me. Swipe right if you think that you can't think.
When I heard about Tinder for the first time, I have never expected that it will be so hard to write a nice bio here. I am not a writer, I am just six feet, 6'7 in heels, and 7'9 in stills guy, who likes to spend his time outdoor looking at the star sky.
I have Italian roots, and this is why my pizzas are the best. If you believe that there is a place in a town when they can surpass my skill at making pizzas, then after our date I will cook you a huge pizza at my place to celebrate your victory. Swipe right if you have never heard about Italian pizza with wine.
Lifetime lovers, who are willing to have a perfect relationship with vivid impressions, swipe right. I am mischievous in life, elegant in a restaurant, and able to turn gray and boring everyday life into a colorful and warm adventure. I am always optimistic. I believe in destiny, and in every other romantic shit that will help us get a date on which we will confess that we like to eat chips and watch TV series at night.
My life is full of interesting events. The only thing I miss is my beloved girl nearby. I would share this rich life with her, so I decided to start a profile here. It's much easier on the Internet to meet an interesting person, especially if you are as stupid as me.
I am no artist, but writing a nice tagline is something like art. Swipe right if you think that I have potential.
Have you picked any tagline? If not, then we hope that we inspired to write something your own. As you can see, it is not that hard. All you need is to have at least some sense of humor, and just a little free time to write the best tagline on Tinder. Remember, your tagline should, in one way or another, represent your personality. So, don't copy and paste something that doesn't have any connection with you, even if you like this tagline or bio. The main goal of your tagline is to draw attention and make as many girls as possible to swipe you right.
Generally, the best way to write a good story about yourself is to imagine that you are traveling on a train and talking with a fellow traveler. What could you tell her? Write everything that comes into your mind but don't use too many witty phrases, or you may scary a potential girlfriend away. Not because she doesn't like embellished texts but because she will see those lines as something alienating on a dating app. A dating site or app is not a literary portal for aspiring authors. And an example of a questionnaire with someone else's biography is unlikely to help you write your personalized bio.